Property Developments
Land Pacific
As property developers that constantly seeks to leverage technological advancements and optimize Land Pacific's user experience, Land Pacific apply the "User-Based Interface" (UBI) approach – a distinctive adaptation of the method that separates Land Pacific from the industry practitioners. It is a scientific model that Land Pacific harness to customise its products based upon research and data analysis. This has allowed Land Pacific to test original ideas, along with those of international frontiers, and to customise and reflect them into Land Pacific's products. It also allows Land Pacific to pinpoint the exact needs of the customers and thus transcribing research into a seamless, modern and convenient final product.
UBI is a combination of taking the innovation of the most challenging property markets in the world, such as Hong Kong, Tokyo, New York, and London, all of which is Land Pacific's heritage and its extensive lineage stems from a legacy of expansive businesses that it has experience in. Model after the vision of the core team and market research from actual relevant targeted-end users. Actual discerning users such as housewives are consulted as an important input for our design of kitchen space, storage facilities, and master bedroom. Similarly, student's behavior is meticulously observed and referred to in our student-centric accommodation; their bedroom usage preference, leisure facilities, toilet to room distance and their social behavior space. Land Pacific believes that UBI input of the end users, allows Land Pacific to create that space, which upon entering, feel right at ease, peace and immediately home. That is Land Pacific's ultimate goal.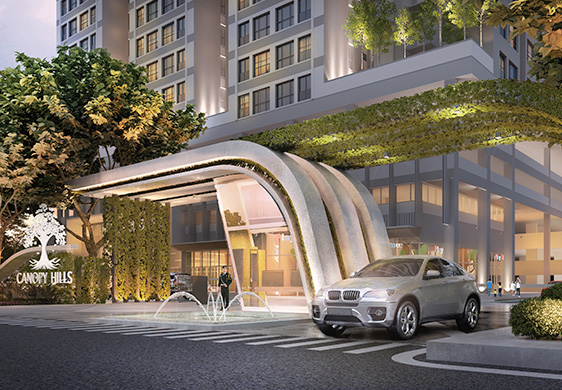 Kajang 2 (Under Construction)
Canopy Hills is located in a rapidly developing area within Kajang, with many other upcoming projects accentuating its strategic location. Surrounded by lush greenery and isolated from the bustling main road and highway, it still boasts convenience with access to major public transportation hubs. Canopy Hills will be located less than 1km away from the brand new KTM Kajang 2 station, one stop away to MRT Line 1 station and the Main Bus Terminal Hub. For residents commuting via personal transport, Kajang is accessible via major highways such as Kajang SILK Highway, LEKAS Highway and Grand Saga Highway (Cheras-Kajang Highway) and other highways that links to a major town in the Greater Kuala Lumpur area such as KL-Seremban Highway and South Klang Valley Expressway. This dream residence is slated for completion in 2022.